Sometimes I feel kinda embarrassed to blog.
'Cos I lead such a boring life.. and that nothing much is interesting enough for me to pen it down.
I hate those mundane blogs, remember?

The only worthy stuff (in my POV) nowadays is my beloved, cute, smart, cheeky, beautiful, darling ABIGAIL.

I don't want to sound like I'm obsessed with Abigail, by keep blogging about Abigail, saying nothing but how adorable Abigail is.
OH WAIT! Abigail just sneezed, I got to go and check whether Abigail is alright!

.
.
.
.
.
.
I'm back.

Anyway, yes, this entry is about Abigail.

This is a classic.

Abigail has A LOT OF toys.

To date, she has 4 trunks of toys (do you know those huge plastic storage boxes?) , plus a cooking stove that's as tall as she is, plus a super market trolley, plus one battery-operated motorbike and one small car, plus a full size tent, and 1 locker-sized shelf full of books.

This is only at her own house.

I think she has 2 trunks at her gong gong's house, and a LEGO TABLE.

I'm not counting the soft toys at both places.

Okok, back to the classic.

There's this little puzzle that she always play with. She'll always start with the butterfly head
The thing is, she'll tell me that it's a BEE.
Whenever I correct her, she'll just say that it's a bee again and again and laugh.

(Her smile is a killer since she was a baby. Now she has an additional dimple. HOW TO NOT LIKE HER, YOU TELL ME?)

So...Zhengchang came over to play with her.
She took out the puzzle and I ask, "Enen, what is this?"
She replied, "Bee!"

=___=!!!

So I nudged Zhengchang to ask her the same question. Same thing, he asked, "Enen, what is this?"
Abigail said, "Butterfly!"

The Ah Yi a.k.a me went hysterics.
"I THOUGHT YOU SAID IT'S BEE? EVERY TIME AH YI ASKS YOU, YOU SAID IT'S A BEE! SO WHAT IS IT NOW?"

She WHISPERED NONCHALANTLY, "B for butterfly..."

Hen li hai.

I lose.

And it made me love her more. Haha.

If you haven't fall in love with her like I did, take a look at these: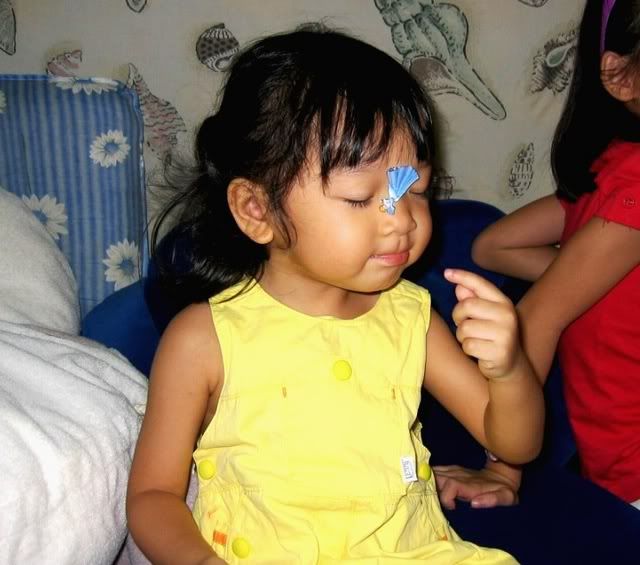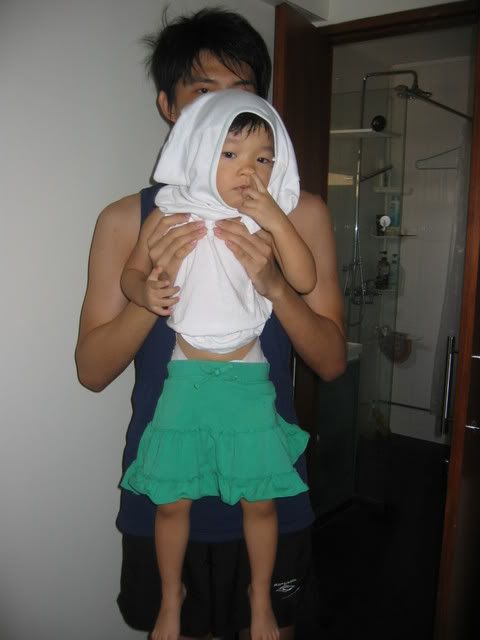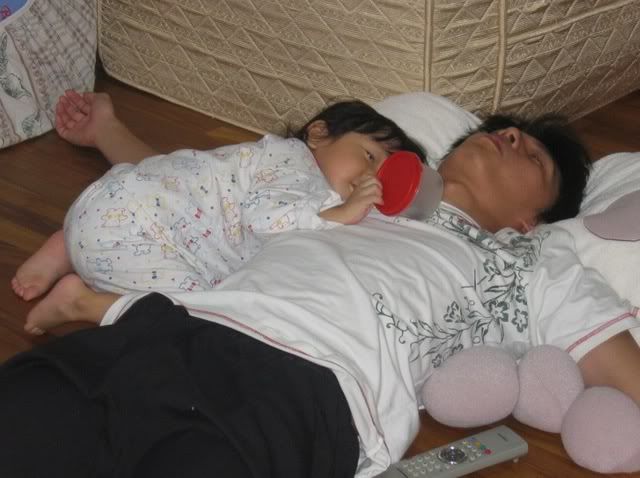 Btw, it's the boyfriend in the last 2 pictures. I secretly thinks that he is in love with me partly 'cos of Abigail. Shhhhhhhhh...

I'm so not obsessed about Abigail. Really.